Overview
Α BUILDING  990 sq. m FOR SALE I
N THE CENTER OF MESSINΙ-PELOPONNESE, GRECE
A Building for Investment
Price per sq. m.: 1,200 euros
Residential Zone: Α (Found in the Centre of Messini)
Levels: TWO Floors:
A) On the first floor 5 shops, 1 apartment and 
B) On the second floor 2 apartments (1 four room, 1 three room) and three unfinished (1 three rooms and 2 quadruplets)
Year of construction:1989
Heating system: Autonomous heating (Electricity)
Energy class: B +
Parking: Yes – a parking lot 70sq.m.
Condition: Freshly Painted, Needs Renovation 
For sale in Messini  a building 990 sq. m. in the center of the city on Polytechniou and Tenedou street, in between two corners. The 2-storey building's area is 900sqm, across from the city's park and its main meeting Square which is surrounded by banks, shopping centers, coffee shops and restaurants.
On the first floor 477.10sqm there are 5 commercial spaces, of which 3 are rented. The second floor 418.55sqm has 5 apartments of which three are incomplete and  the other two need renovation.
The property is located on a plot of 526.78sqm has a frontage on three streets with S / D2.2 builds 1158sqm.
It is suitable for professional housing (hotel, RB&B, Elderly Care Foundation, private housing – for rental housing, even as an investment by a contractor for the construction of luxury housing.
The building is located 3′ minutes from the airport of Kalamata, 5′ from Bouka- beach of the city that has been awarded a Blue Flag, 10' from the beach of Kalamata, 5′ minutes from Ancient Messini where the Ancient Theater hosts cultural festival, and which was discovered by the archaeologist Petros Themelis. In the beginning of August 2013, the Theater reopened and hosts performances in the context of cultural events of the Kalamata Festival.
Price € 1,100,000
ENG/CE: F
IMMEUBLE A VENDRE  920 m²
AU CENTRE DE MESSINΙ-PELOPONNESE, GRECE 
Un bâtiment pour l' investissement
Prix ​​au m²: 1.200 euros 
Zone Résidentielle: Α (Trouvé dans le Centre de Messini)
Niveaux : DEUX Étages : 
A) Au premier étage 5 commerces, 1 appartement et
B) Au deuxième étage 2 appartements (1 quatre pièces, 1 trois pièces) et trois inachevés (1 trois pièces et 2 quadruplés) Année de construction: 1989 
Système de chauffage: Chauffage autonome (Electricité) 
Classe énergie: B+
Parking: Oui – un parking de 70m². Condition: Fraîchement Peint, Besoin de renovation.
A vendre à Messini un immeuble d'angle lumineux de 2 étages au centre de la ville sur rue Polytechniou et rue Ténédou, entre deux coins – immeuble 920m², face au parc municipal et sa place.
La superficie du bâtiment de 2 étages est de 900 m², en face du parc de la ville et de sa principale place de réunion qui est entourée de banques, de centres commerciaux, de cafés et de restaurants. Au premier étage 477.10m² il y a 5 espaces commerciaux, dont 3 sont loués. Le deuxième étage de 418,55 m² compte 5 appartements dont trois incomplets et les deux autres à rénover. 
La propriété est située sur un terrain de 526,78m² a une façade sur trois rues avec S/D2.2 construit 1158m².
Il convient au logement professionnel (hôtel, RB&B, Elderly Care Foundation /Fondation des soins aux personnes âgées, logement privé – pour le logement locatif, voire comme investissement d'un entrepreneur pour la construction de logements de luxe.
Le bâtiment est situé à 3′ minutes de l'aéroport de Kalamata, 5′ de Bouka- plage de la ville qui a reçu un drapeau bleu, 10′ de la plage de Kalamata, 5′ minutes de l'Ancienne Messini où le Théâtre Antique accueille des activités culturelles festival, et qui a été découvert par l'archéologue Petros Themelis.
Début août 2013, le Théâtre a rouvert et accueille des représentations dans le cadre des événements culturels du Festival de Kalamata.
Prix ​​1.100.000 €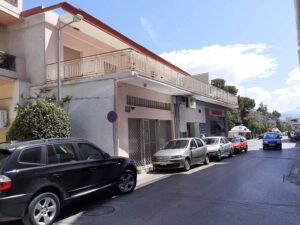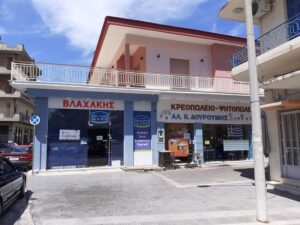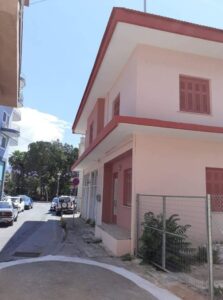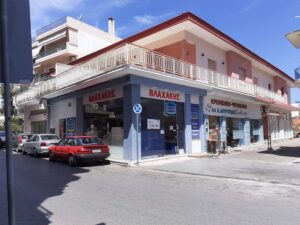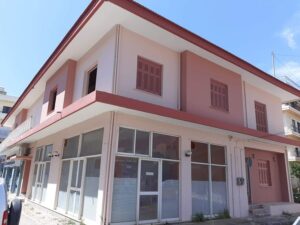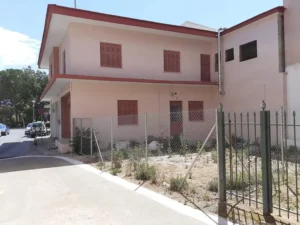 Details
Lot Area:

527 Sq m

Home Area:

900 Sq m

Price:

Property Status: